The Women's Museum
www.womenmuseumuae.com

Vision
The Women's Museum is a national archive and documentation centre, dedicated to the women of the UAE. It's concerned with all aspects of their lives and with the historical and social contexts, which have shaped their philosophy; their status in society; and their place in the family. As a contemporary cultural centre, the Women's Museum explores the activities of Emirati women in the arts, academia, business, culture, politics and society in general.
The Museum aims to acquaint visitors in UAE with the various aspects of the daily lives of women in UAE. For the young generation, to appreciate the achievements of earlier female generation.





The Museum
Here, visitors can learn about the multifaceted lives of Emirati women down through history. It serves as a comprehensive account of their lifestyle and philosophy over the years, which mirrors the story of the nation. It's hoped that by examining the past, new light can be shed on the present- enabling a better understanding of female Emirati history, culture and identity. We quote Rym Ghazal, from the National, Dec 16, 2012: "Emirati women have been active in every possible role," Prof Ghubash says. "From their economic roles in setting up businesses and participating in real estate and land sales from as early as the 1950s, to social and humanitarian roles, as well as their important political role in raising the leaders of the country. It is endless. They are involved in every aspect of life." "One of a kind in the region, every corner of the museum tells a story, and almost each item can be traced back to its owner and her subsequent story."




Address: P.O. Box 1086, Dubai, UAE
T: +971 4 234 2342
Email: woman@womenmuseumuae.com
Website: www.womenmuseumuae.com/eng




Middle East's first women's museum lifts lid on rich history
By Catriona Davies, CNN
March 8, 2013 -- Updated 1214 GMT (2014 HKT)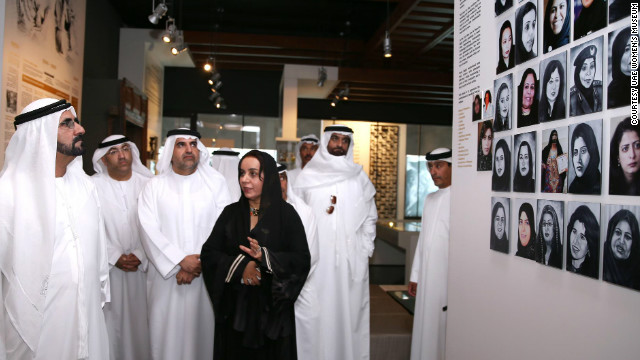 Rafia Ghubash with Dubai's ruler Sheikh Mohammed bin Rashid Al Maktoum at the official opening of the museum, in a room dedicated to the poet Ousha Bint Khalifa
(CNN) -- As a psychiatrist, former university president and advocate for Arab women in science, Rafia Ghubash is one of the United Arab Emirates' most influential women.
But her latest project is possibly her most ambitious yet: creating the Middle East's first museum dedicated to the achievements of women.
The museum, Bait al Banaat, or House of Women, in Dubai was officially opened at the end of 2012 by Dubai's ruler Sheikh Mohammed bin Rashid Al Maktoum, showcasing the contribution of women to the country's history.
"Women here were empowered a long time ago, but haven't had a chance to tell our story," said Ghubash. "Don't think because we are covered we are not empowered.
Read: Inspiring women, remarkable quotes
"Women here were not in the media, but they were economically engaged and running businesses."
Don't think because we are covered we are not empowered.
Rafia Ghubash
The museum is the culmination of five years' work for Ghubash, who financed the museum with $3 million of her own money.
"For me it was a full-time job but I had 20 volunteers of all nationalities working with me in their free time. It was nice to have people with different backgrounds involved," she said.
In searching for a home for the museum, Ghubash turned down a free site in Dubai's official heritage district for an old house in the historic Gold Souk neighborhood she grew up in.
"I was looking for a place to build and I came across a very old house that I remember from childhood," she said. "It used to be called Bait al Banaat because three unmarried women lived there. Something about the name came to life for me."
Ghubash said her grandmothers' generation contributed far more to the politics, economy, education and literature of the region than has been recognized.
Arianna Huffington tells women: 'Less stress, more living'
The museum contains a room dedicated to the Emirati woman poet Ousha Bint Khalifa -- known as the Girl of Arabia, a gallery devoted to temporary art exhibitions, a collection of Arabian fragrances and oils, traditional jewelery and a women's study center.
"It was very important for me to present the museum in the best way possible to attract a younger generation. I want them to enjoy their culture and heritage," said Ghubash.
Ghubash, 56, has undertaken the museum project while taking a sabbatical from a career that led to her being listed 36th on Arabian Business magazine's "100 Most Powerful Arab Women" in 2011.
She grew up in Dubai in a family where she was encouraged to study.
I came across a very old house that I remember from childhood.
Rafia Ghubash
"I came from a family where both parents made sure there were books available in the house," she said. "I had freedom to read and to think for myself."
Ghubash trained as a doctor at the University of Cairo and for a PhD in London, before returning to the United Arab Emirates as an assistant professor of psychiatry.
In 2001, she became president of the Arabian Gulf University in Bahrain, a post she retained until 2009.
She also founded the Arab Network of Women in Science and Technology, and served as its president for four years.
"My journey in life is very interesting," she said. "I was focusing on becoming a doctor and practicing as a psychiatrist.
"Recently, I found myself attracted to something different: history and culture."
Having achieved her goal in opening the museum, Ghubash is not content to rest and revel in the glory. She is already working on her next project to compile an encyclopaedia of women of the United Arab Emirates.
Museums in the Middle East


It's a woman's world
Jul 30th 2012, 10:45 by J.F. | DUBAI
IN THE patriarchal societies of the Arab world, quite a few women are getting noticed for flouting conventional gender norms. There's Saudi Arabia's Manal al-Sharif, who lost her job and came under great pressure for driving a car and putting a video of it on YouTube; Sheikha Mayassa Al Thani, a powerful art patron in Qatar; and Sheikha Lubna Al Qasimi, a globe-trotting minister of foreign trade for the United Arab Emirates (UAE). And later this year the region will see its first museum dedicated to the accomplishments of women.
The Women's Museum of the United Arab Emirates is the creation of Rafia Obaid Ghubash, an academic, psychiatrist and former president of the Arabian Gulf University, who campaigns for women's education. Her aim is to educate visitors—locals, expats and tourists—that Emirati women have enjoyed more power and influence than is recognised. She also wants to re-connect the fast-moving modern Emirates with its history and tradition. The three-storey museum is determinedly contemporary: traditional jewellery hangs suspended in minimalist cases; material wraps a stylised mannequin; worn housework tools are displayed alongside artwork by modern female Emirati artists.
Dr Ghubash declined a free site in Bastakya (an official Dubai heritage district), preferring to buy one in Deira, Dubai's old nexus of souks. She sold off some commercial property she owned to finance the museum herself, at a cost of around $4m, and plans to seek sponsors for its projects and exhibitions. She explains that her mother taught her that womanhood need not equal subservience. Speaking in the museum to the sounds of saws and final touches, her iPhone headphones threading through her fingers like worry beads, Dr Ghubash recalls her mother telling her: "You have to learn that your rights are born with you. Don't think the government or a man or your husband will give you a right. It's inside you, just practise it."
This belief emanates from the art and artefacts on permanent display, from photographs to literature, mosaics, paintings and objects. They tell the stories of Sheikhas operating as peacemakers and dynastic linchpins, women who became pioneers in education and business, and also poets ("When you say Shakespeare, we would say Ousha Bint Khalifa", says Dr Ghubash). Emirati women today are much better off, she adds, because many of them are now able to go to school and work, which enables financial independence. Dr Ghubash sees these changes as the legacy of Sheikh Zayeed of Abu Dhabi, who was president of the UAE from its foundation in 1971 to his death in 2004.
For Dr Ghubash the appreciation of history and tradition in rapidly developed societies like the UAE isn't just good cross-generational manners, but mentally healthy. "Those who keep their tradition in dealing with modernity will be healthier than those who take out their tradition," she explains. "Globalisation is an umbrella to use in part of your life but not all of your life." When talking of Dubai's near-famine years during the second world war and the six months of every year the men spent away pearl fishing, she asks, "Who was running society? Just recently you can see us but we were behind the door all the time."
She accepts that there is a dual attitude to Arab women. "Part of the tradition is kind to women. But part is very negative. Those who are not educated just utilise the negative part." Now female UAE graduates outnumber males two to one. Dr Ghubash wants to reach those young women, and help them appreciate the achievements of earlier female generations. "They are educated, they become powerful, you see them everywhere but there is something missing." She also wants to close the distance between non-Arabs and locals. "Foreigners are the majority here. They know nothing about our society. You live with us and you don't know us."
Dr Ghubash hopes locals will feel a sense of pride, and visitors will have a richer understanding of the Emirates as a place where women have played important roles in politics, business and education. The message of the museum, she says, is that "everything from your past is important to you."